Corozal Town is in the Corozal District, in the northern region of Belize in Central America.
Belize is divided into six districts, Corozal, Orange Walk, Belize, Cayo, Stann Creek, and the Toledo district. Toledo, being at the southern end of Belize.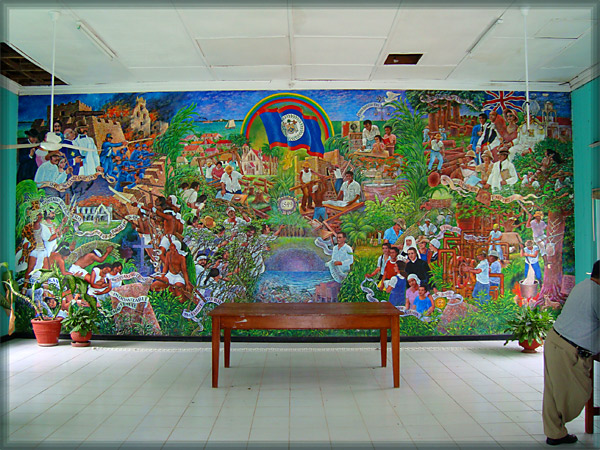 Mural inside Corozal Town Hall, painted by Manuel Villamor.

View Corozal Town in a larger map
Corozal Town, is a coastal community, located in the district of Corozal, in the northern part of Belize, in Central America.  Corozal shares borders, to the north and west, with Quintana Roo, Mexico. To the south of Corozal, is Orange Walk District, and to the east, is the Caribbean Sea. Corozaleños, wake up daily to the magnificent view of the rising sun as it emerges over the rippling waters in the Corozal bay.  Corozal Town is aproximately 9 miles from the northern border with Mexico, at Santa Elena and 86 miles from Belize City. Like a pearl in an oyster, Corozal Town, is nestled in the calm and tranquility of the Corozal Bay and is a well guarded natural paradise.
What language is spoken in Corozal Town?
The national language of Belize is English. People in Corozal speak, English, Spanish, Garifuna, Maya and, everybody speaks English Creole, among other international languages. Corozal has residents from all over the world, who have come to Corozal and embraced it as their home. Chances are, if you come to Corozal, you may want to stay for a little while longer, " a think a gweh stay, lil bit more". In Corozal you can find residents that were born all over the world, it is a conglomeration of many races living in peace.
What is the population of Corozal Town?
There are aproximately, 10,000 residents in the coastal town of Corozal.
$1.00 US Dollar is worth (aprox.) $2.00 Belize Dollars
Double your money, come to Corozal.
All roads lead to Central Park in Corozal Town.  Any visit to Corozal should include a visit to Central Park.  It is the central hub of the town and is surrounded by landmarks, including the Forts that protected the main plaza in times of the caste wars. On the south side of the park is the Town Hall. Inside the Town Hall is a historical mural painted by artist Manuel Villamor. Be sure to stop by and take a photograph of this impressive exhibit. On your next visit to Corozal Town, take a picture in Central Park and send it to us, we will show it to the world.
Corozal, comes from the word Corozo, which is spanish for the Cohune nut.  A corosal, is a spanish term for a place where corozo grows in abundance, just like a place with a lot of mamey, is called a mameyal.
Thers are at least 3 locations, named Corozal. There is, Corozal in Belize, Corozal in Puerto Rico, Corozal in Columbia, South America.